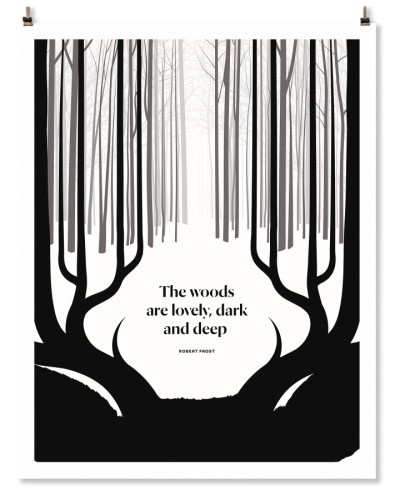 Robert Frost "Woods" Print
Imprint: Obvious State
Publication Date: September 24, 2019
Price: $24.95
ISBN: 063-4392439-43-0
EAN: 0634392439430
Page Count: 160
Format: Print
Rights: US and Canada
"The woods are lovely, dark and deep" —Robert Frost
Frost's most anthologized and beloved poem, "Stopping by Woods on a Snowy Evening," is deceptively simple thanks to the monosyllabic introduction and elemental nature of the prose. Throughout the poem Frost develops tension between society (the village) and nature (the woods), one representing social commitments and public expectations, the other tranquility and private will. For the narrator of the poem, there's a mystical allure to the woods that interrupts his journey and seduces him into a state of contemplation. "The woods are lovely, dark and deep" is that final indulgence in the lucid dreamlike state before he capitulates to his promises and social obligations.
• 11x14 inch art print with white border
• Heavy, premium 270 gsm archival paper
• Matte, slightly textured finish
Original artwork by Obvious State, not endorsed by or affiliated with the attributed author. All applicable rights reserved.
About the author
Obvious State is a creative studio in pursuit of wisdom and beauty. They are inspired by provocative language that has stood the test of time, poetry that captures the beauty of the human experience, and philosophy that drives us to examine and re-examine. They aim to create art and thoughtfully designed gifts that prompt conversations and bring aesthetic joy to everyday objects. All Obvious State goods are meticulously crafted in the United States and printed on the finest papers and materials. After all, beautiful language deserves beautiful treatment.