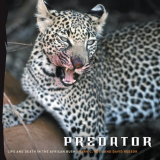 Predator: Life and Death in the African Bush
Imprint: Abrams Books
Publication Date: May 1, 2007
Price: $37.50
Trim Size: 10 x 10
ISBN: 978-0-8109-9301-3
EAN: 9780810993013
Page Count: 208
Illustrations: 15 BW Illu 175 Color Photos
Format: Hardcover
With his phenomenal photographs of the five great predators of the African bush—lions, cheetahs, leopards, hyenas, and crocodiles—Mark Ross takes the reader on a wild safari. He shares his unparalleled knowledge and in-depth insight into the morphology, behaviors, daily activities, and livelihoods of the large carnivores that prowl the plains, woodlands, and rivers of Africa.
Along with a removable, fold-out guide containing a predator "cheat sheet" of various traits and statistics as well as tips on how to best observe and photograph the animals, Predator overflows with information that both enlightens the reader and dispels popular misconceptions. Compelling and sometimes violent, Ross's text and images capture the true life-and-death scenarios that are played out every day against the backdrop of the magnificent African landscape.
About the authors
Mark C. Ross is a safari guide, writer, biologist, photographer, and bush pilot based in Kenya, where he has spent more than thirty years. He is the author of Dangerous Beauty (Talk Miramax Books, 2001) and a regular lecturer at the National Geographic Society and a variety of zoos across the country.

David Reesor is a part-time photographer and traveler who has accompanied Mark C. Ross on numerous safaris.