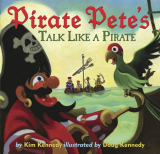 Pirate Pete's Talk Like a Pirate
Imprint: Abrams Books for Young Readers
Publication Date: September 1, 2007
Price: $16.95
Trim Size: 10 1⁄4 x 9 3⁄4
ISBN: 978-0-8109-9348-8
EAN: 9780810993488
Page Count: 40
Format: Hardcover
Popular Pete is Perfect for Talk Like a Pirate Day!
Following the success of Pirate Pete and Pirate Pete's Giant Adventure comes a new book by the celebrated brother-and-sister team of Doug and Kim Kennedy. In this new adventure, Pete has a wonderful new ship, but no crew. But not just any crew will do. As Pete explains:
"Ye gots to be stubborn and mighty cranky,
Ye gots to be dirty and awfully stanky!
Ye gots to load a cannon and know how to fire it,
But most of all, ye gots to talk
like a pirate!"
One by one Pete interviews his potential crew, and one by one they get the boot! Whoever will he find to help him sail the high seas? A hilarious and fun-to-read-aloud book that will have every child talking like a pirate.
Praise for the Pirate Pete books
Family Choice Award
"Arrr, matey, 'tis a fine book indeed." —Kansas City Star
"Lots of fun for pint-size buccaneers." —Booklist
"Should keep young mateys anchored to their seats." —Kirkus
"Clever dialogue, funny illustrations and just the right amount of suspense . . . simply terrific." —The Dallas Morning News
F&P level: P
About the author
Kim Kennedy and her brother Doug Kennedy have collaborated on several book projects. Publishers Weekly said they "create fantasy situations that evoke 19th-century fairy stories . . . [The] paintings have the spirit of early animation with a touch of Oz." Both live in the bayou town of Monroe, Louisiana.