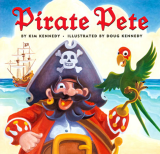 Imprint: Abrams Books for Young Readers
Publication Date: May 1, 2002
Price: $16.95
Trim Size: 10 1⁄4 x 9 3⁄4
ISBN: 978-0-8109-4356-8
EAN: 9780810943568
Page Count: 40
Format: Hardcover
Pirates are always a kid-pleaser! When Pirate Pete hears the Queen has discovered a treasure map, he must have it. With the map in hand, Pete and his parrot hit the high seas, destined for the X that marks the spot. Along the way, however, Pete cannot pass up a chance to plunder gold. He sets ashore at Candy Island, Clover Island, Sleepy Island, and Dragon Island. But where is all the gleaming booty? This humorous tale, brought to life through vibrant, lush oil paintings, will have children giggling for gold!
F&P level: P
About the authors
Kim Kennedy and her brother Doug Kennedy have collaborated on several book projects. Publishers Weekly said of Kim Kennedy and Doug Kennedy, "[They] create fantasy situations that evoke 19th-century fairy stories . . . [and the] paintings have the spirit of early animation with a touch of Oz." Both live in the bayou town of Monroe, Louisiana.