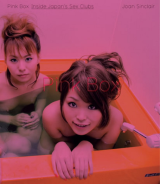 Pink Box
Inside Japan's Sex Clubs
Imprint: Abrams Books
Publication Date: October 1, 2006
Price: $37.50
Trim Size: 8 1⁄4 x 9 1⁄2
ISBN: 978-0-8109-9259-7
EAN: 9780810992597
Page Count: 192
Illustrations: 155 full-color photographs, 192 pages, 8 1/4x9 1⁄2"
Format: Paperback
In Pink Box, photographer Joan Sinclair takes us on a journey inside the secret world of fuzoku (commercial sex) in Japan, a world where kawaii (cute) collides with consumerism and sex.
Unrivaled in their creativity and the sheer number of choices, the clubs featured in this book offer their clientele every fantasy imaginable. Subway groping, visits to the nurse's office, and comic book character encounters are just the beginning of the immense list of possibilities that are played out in colorful playrooms for adults where no detail is overlooked. Sinclair's photographs capture it all, while an introduction by sociologist James Farrer provides a brief history of commercial sex in Japan and places the images in the context of contemporary Japanese culture.
About the author
Joan Sinclair first heard about Japanese sex clubs while working as an English teacher in Tokyo and returned years later to document them. She now lives in San Francisco.

James Farrer teaches sociology at Sophia University in Tokyo, where he conducts comparative research on ideas of sexuality and romance among young people in Japan and China. He is the author of Opening Up: Youth Sex Culture and Market Reform in Shanghai.