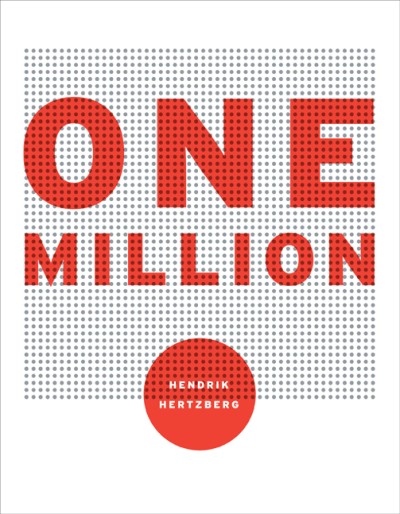 Imprint: Abrams Image
Publication Date: November 1, 2009
Price: $15.95
Trim Size: 7 x 9
ISBN: 978-0-8109-7845-4
EAN: 9780810978454
Page Count: 224
Illustrations: 2-color desgin
Format: Paperback
Rights: North America
Originally published in 1970, One Million has been out of print for some time, and its author, the highly esteemed New Yorker editor and columnist Hendrik Hertzberg, has been prompted by fans to create a new edition. Originally, the project was inspired by the author's journalistic impulse to try to make the newsworthy, large, and rather abstract number more concrete for people. To that end, he has created a book in which each of the 200 pages features five thousand dots, but on each page, a few of the dots are called out from their place in numerical order with a little piece of statistical information that add up to really bring the concept home.
Fully updated and revised, Hertzberg's book is a fascinating compendium of random statistics, but the author's trademark intelligence and wit are on display through his choices and juxtaposition.

About the author
Hendrik Hertzberg is a senior editor and staff writer at the New Yorker, where he frequently writes the opening Comment in "The Talk of the Town." Hertzberg originally joined the New Yorker in 1969, after serving as an officer in the U.S. Navy. He left after the 1976 Presidential election to serve as President Jimmy Carter's chief speechwriter from 1979 until 1981. From 1981 until 1992 he was associated with the New Republic and served two terms as its editor. In 1992, he returned to the New Yorker.