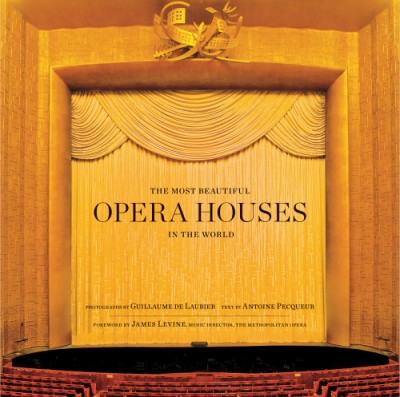 The Most Beautiful Opera Houses in the World
Imprint: Abrams Books
Publication Date: October 29, 2013
Price: $65.00
Trim Size: 11 x 11
ISBN: 978-1-4197-0961-6
EAN: 9781419709616
Page Count: 240
Illustrations: 200 color photographs
Format: Hardcover
Rights: WENG
Opera houses—temples to the art of Mozart, Verdi, Tchaikovsky, and more—have been created by some of the most talented architects and designers of their generations, inspiring centuries of veneration from audiences, filled with royalty and commoners alike. In this sumptuous book, photographer Guillaume de Laubier and journalist Antoine Pecqueur explore more than 25 of the world's most beautiful opera houses, from Tokyo to Covent Garden, from Oslo to Chicago, from Milan to New York. The buildings are described in their historical contexts, while stunning photography reveals the theaters' most captivating spaces. In addition to offering sweeping views of ornate auditoriums and facades, the book opens doors normally closed to the public, entering the artists' dressing rooms, rehearsal halls, scenery workshops, and more, presenting a wide-ranging and compelling look into a spectacular world.
Praise for The Most Beautiful Opera Houses in the World:
"Performance spaces take the spotlight in The Most Beautiful Opera Houses in the World and you don't need to be a music buff to appreciate their range. The photographs by Guillaume de Laubier capture 32 theaters across the globe in rich detail . . . Who knew empty stages made for such good theater?" —Wall Street Journal
 "With the growing popularity of massive arenas, it is often difficult to think back to a time when going out for a night of music was synonymous with elegance. But a new book has rediscovered the high art of these exquisite theater spaces. The Most Beautiful Opera Houses in the World contains hundreds of photographs showing the exteriors and auditoriums of these cultural treasures—and is a reminder why these architectural wonders are worth a visit." —FOXNews.com
About the author
Guillaume de Laubier, a photographer who has regularly contributed to Elle Décor, Vogue, and Maison Française, is the author of several books, including Abrams' The Most Beautiful Libraries in the World. Antoine Pecqueur is a journalist for Le Monde, the French television channel Mezzo, and the classical music periodical La Lettre du Musicien.