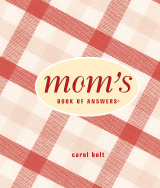 Imprint: Stewart, Tabori & Chang
Publication Date: April 1, 2004
Price: $18.00
Trim Size: 5 1⁄2 x 6 1⁄2
ISBN: 978-1-58479-326-7
EAN: 9781584793267
Page Count: 572
Format: Hardcover
Everyone has a mom. Some people are moms. And we can all use, from time to time, even more advice from Mom. For seekers of wisdom, then, here is Mom's Book of Answers, offering oracular counsel of the maternal kind. Carol Bolt's Book of Answers® series follows the practice of bibliomancy, or foretelling the future through books. The natural successor to The Soul's Book of Answers® and Love's Book of Answers,® this beautifully packaged volume draws advice from that ancient wellspring of hard-won wisdom—other moms. Whether you're seeking guidance about a specific or general parenting issue, or just need that particular point of view for yourself, the solution—from moms through the ages—is channeled through this prophetic guide. So when you find yourself wondering at 3:00 a.m., "Will I ever get a good night's sleep again?" hold the book closed, then meditate on or speak your question aloud while riffling through its pages. When you feel the time is right, stop and open the book to the page where your fingers came to rest. There is your answer.
About the author
Carol Bolt is a multidisciplinary artist and the author of five books, including Love's Book of Answers® and The Soul's Book of Answers® (both STC). Her artwork can be found in both public and private collections throughout the United States. Bolt produced the original Book of Answers (Hyperion) as a limited edition of 130; it was later published commercially, and to date has sold more than 100,000 copies. Bolt lives and works in Seattle.