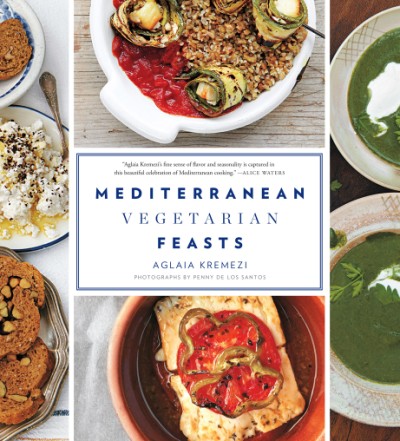 Mediterranean Vegetarian Feasts
Imprint: Stewart, Tabori & Chang
Publication Date: October 7, 2014
Price: $35.00
Trim Size: 9 x 10
ISBN: 978-1-61769-073-0
EAN: 9781617690730
Page Count: 256
Illustrations: 100 4-color illustrations
Format: Hardcover
Rights: World/All
Additional formats:
In Mediterranean Vegetarian Feasts, Aglaia Kremezi, who introduced Greek cooking to an American audience, has gone back to her roots, rediscovering the delicious, fresh, healthy, easy-to-make recipes she grew up with, like Flat Bread with Dried Figs, Spicy Cheese, and Rosemary; Santorini Favas with Braised Capers and Onions; and more.
Mediterranean Vegetarian Feasts will appeal to even the most avid meat lover with a cornucopia of 150 simple, yet abundantly flavorful, plant-based seasonal dishes. Attractive to the ever-expanding vegan and vegetarian market, as well as for fans of Mediterranean cooking, Kremezi's arsenal of master recipes for spice, nut, and herb mixtures, sauces, jams, and pastes inspired by eastern Mediterranean and north African traditions will transform even the most humble vegetable or grain into an irresistible dish.
Praise
"Aglaia Kremezi's fine sense of flavor and seasonality is captured in this beautiful celebration of Mediterranean cooking. In these thoughtfully considered recipes, her deep understanding of vegetables, fruits, and herbs is paired with a respect for tradition and place—and the results are universally delicious."

— Alice Waters, owner of Chez Panisse and author of The Art of Simple Food
"Having seen Aglaia in action at her cooking school, I'm delighted that I can now recreate her amazing dishes at home using her beautiful new book. Bravo, Aglaia!"

— Joan Nathan, award-winning cookbook author, most recently of Quiches, Kugels and Couscous: My Search
"This is the most appealing collection of vegetable recipes. Aglaia Kremezi is a masterful cook and I know these dishes will make a delicious centerpiece of any meal."

— Deborah Madison, author of Vegetable Literacy and The New Vegetarian Cooking for Everyone
"A teacher, a cook, a master storyteller, and a friend: Aglaia is all of these things to me, my team, and so many others. Her generous spirit is alive in this book. And now, more than ever, her amazing look at the rich and robust vegetables at the heart of Mediterreanean cooking could not be more important. Everyone wants to eat smart, healthy, and always with lots of flavor!"

— José Andrés, Chef/owner of ThinkFoodGroup including Zaytinya, Jaleo, and The Bazaar by José Andrés
About the authors
Aglaia Kremezi was born in Athens where she lived and worked as a journalist and photographer before devoting her time entirely to cooking and food writing. She is the author of The Foods of Greece (STC, 1993) and The Foods of the Greek Islands (HM, 2000), among other cookbooks. She blogs at the Atlantic Monthly and writes for Saveur, LA Times, BBC Good Food Magazine, Bon Appetit, Food & Wine, and other European and American publications. She has appeared on GMA, TVFN, and was the consultant for Molyvos restaurant in New York City.