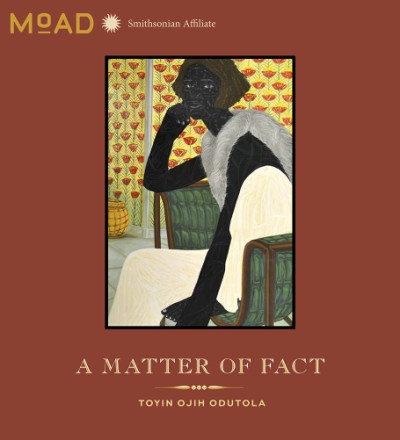 A Matter of Fact
Toyin Ojih Odutola
Imprint: Cameron Books
Publication Date: February 5, 2019
Price: $19.95
Trim Size: 10 x 11
ISBN: 978-1-944903-68-8
EAN: 9781944903688
Page Count: 38
Format: Paperback
A Matter of Fact, which accompanied an exhibition at the Museum of the African Diaspora (MoAD), showcases the work of Nigerian-born New York artist Toyin Ojih Odutola (b. 1985). Employing diverse mediums to emphasize the striated terrain of an image and its formulaic representations, Ojih Odutola carefully stages mesmerizing portraits of the fictional UmuEze Amara Clan in opulence. Utilizing conceptual portraiture, the purview of the affluent, the artist invites us to consider the social construct of class within the intersection of race, identity, sexuality, and gender. In her vibrant depictions of imagined Nigerian aristocracy, rendered in charcoals, pastels, and pencil, Ojih Odutola explores scale, patterns, and color to present characters who distinctly occupy their privileged, lavish space.
Toyin Ojih Odutola, originally from Ile-Ife, Nigeria, has participated in exhibitions at various institutions, including Brooklyn Museum, New York; Contemporary Art Museum St. Louis; Studio Museum Harlem, New York; Aldrich Contemporary Art Museum, Ridgefield, CT; and Menil Collection, Houston. Permanent collections include The Museum of Modern Art, Whitney Museum of American Art, Baltimore Museum of Art, New Orleans Museum of Art, Philadelphia Museum of Art, Princeton University Art Museum, Spencer Museum of Art, and the National Museum of African Art (Smithsonian). She earned her BA from the University of Alabama in Huntsville and her MFA from California College of the Arts in San Francisco. Ojih Odutola lives and works in New York.
About the author
Leigh Raiford is Associate Professor of African American Studies at the University of California, Berkeley. Raiford earned her doctorate in African American Studies and American Studies from Yale University in 2003. Before coming to UC Berkeley, she was the Woodrow Wilson Postdoctoral Fellow at the John Hope Franklin Humanities Institute at Duke University. Her teaching and research interests include race, gender, and visual culture with an emphasis on film and photography; race and racial formations of the United States; twentieth-century African-American social movements; race and memory; and black popular culture.

Emily Kuhlmann has been engaged at MoAD in various capacities since 2011 where she organized past exhibitions such as The Grace Jones Project (2016), Where is Here (2017), and The Ease of Fiction (2017). As Director of Exhibitions and Curatorial Affairs she has curated the following solo artists exhibitions: Alison Saar: Bearing (2016), A Matter of Fact: Toyin Ojih Odutola (2016) and Todd Gray: My Life in the Bush with MJ and Iggy (2017). She received her Bachelor of Arts from the University of California, Irvine in Art History with a minor in Women's Studies and a Master of Arts in Visual and Critical Studies from California College of the Arts. Her research interests include performance studies and critical race art history.

The Museum of the African Diaspora (MoAD), a Smithsonian affiliate, is a contemporary art museum that celebrates Black cultures, ignites challenging conversations, and inspires learning through the global lens of the African Diaspora. MoAD is uniquely positioned as one of the few museums in the world focused exclusively on African Diaspora culture and on presenting the rich cultural heritage of the people of Africa and of African descendant cultures all across the globe.