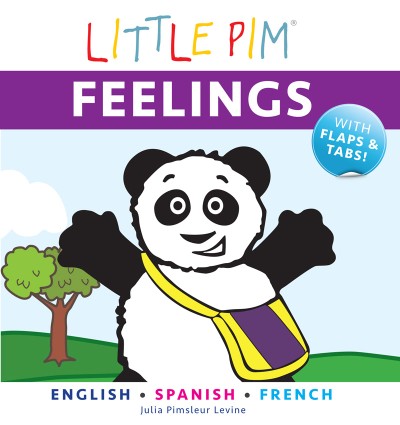 Imprint: Abrams Books for Young Readers
Publication Date: August 1, 2011
Price: $8.95
Trim Size: 6 3⁄4 x 6 3⁄4
ISBN: 978-1-4197-0018-7
EAN: 9781419700187
Page Count: 10
Illustrations: 10 pages of full-color illustrations
Format: Novelty
Rights: US/CAN/UK/AUS/NZ/SA
The Little Pim book series adapts the most successful and effective elements from the award-winning Little Pim DVDs to promote fun with languages for young children. Each book incorporates an exciting blend of illustrations and photographs, as well as flaps and pull tabs to keep readers engaged. The stories are told in English, with words featured in Spanish and French (the most popular languages in the DVD series). Pronunciation guides for parents are included.
Colors showcases colors and objects, and Feelings focuses on emotions and expressions. Each book weaves its vocabulary into a hide-and-seek story featuring Little Pim as the narrator and concludes with a helpful review of the words learned.
Accolades:
The National Parenting Center Seal of Approval 2012

About the author
Little Pim was created by Julia Pimsleur Levine, a mom who grew up bilingual and was looking for fun ways to introduce her young son to the French language. When she discovered there were no high-quality videos or DVDs for teaching toddlers a foreign language, she decided to create them herself—something for which she was uniquely qualified as a filmmaker, language teacher, and mother. Julia was inspired in part by having grown up in the language-teaching business. Her father, Dr. Paul Pimsleur, created one of the most popular and acclaimed audio language-teaching methods for adults. Creating Little Pim was her way of carrying on the family tradition of raising bilingual kids and sharing a love of learning with other families.