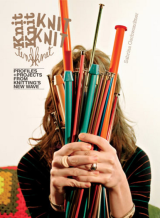 KnitKnit
Profiles + Projects from Knitting's New Wave
Imprint: STC Craft
Publication Date: September 1, 2007
Price: $29.95
Trim Size: 8 x 11
ISBN: 978-1-58479-631-2
EAN: 9781584796312
Page Count: 176
Format: Hardcover
Provides an intimate look at how 27 of today's most innovative, inspiring, and groundbreaking knitters live and work
Captures the zeitgeist of the craft renaissance
KnitKnit, the highly collectible 'zine, has been featured in The New Yorker and on Style.com
All over North America and Europe, a brand-new generation has taken up knitting—and is transforming the venerable needlecraft by blurring the boundary between craft and art. In Copenhagen, Denmark, Isabel Berglund hand-knit an entire room. In New England, Dave Cole constructed an enormous "knitting machine" (he used excavators and utility poles) that knit an 800-stitch, 35-by-20-foot American flag. But the projects aren't all of a monumental scale. In Los Angeles, Bridget Marrin knits little dollhouses—complete with lawns, shrubbery, and smoke-filled chimneys, all made of yarn. Using surgical wire, Indiana-based knitter Althea Merback hand-knits sweaters smaller than a dime.
Five years ago, Sabrina Gschwandtner founded a 'zine to tackle the blurry edge between craft and fine art. Now, her book KnitKnit brings together profiles of 27 of the most talented artist-crafters knitting today. But KnitKnit does more than just document their ingenious creations. Each of the profiled knitters has contributed a project—a sweatshirt kimono, a mohair and metal belt, a pair of high-heeled boots, a geodesic-patterned cap, even a teddy bear knit from fiberglass insulation—meant to inspire you to find and follow your own creative path.
About the author
Sabrina Gschwandtner holds a BA in art/semiotics from Brown University and an MFA from Bard College. Her artwork has been exhibited internationally at such venues as the Museum of Arts and Design, New York, and the Fleming Museum, Vermont. She is the founder of KnitKnit, a biannual artists' publication dedicated to the intersection of traditional handcraft and contemporary art. Gschwandtner lives in New York City. You can visit her website at www.knitknit.net.

Kiriko Shirobayashi is an award-winning New York–based photographer whose work has been exhibited at the Houston Center for Photography and the National Museum of Belarus, among other venues. Her work was featured in Stewart, Tabori and Chang's Knitting for Peace and appears regularly in magazines in the U.S. and abroad.