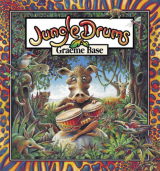 Imprint: Abrams Books for Young Readers
Publication Date: September 1, 2004
Price: $19.95
Trim Size: 10 1⁄2 x 11 3⁄8
ISBN: 978-0-8109-5044-3
EAN: 9780810950443
Page Count: 40
Format: Hardcover
Best-seller Base is back with an all-new story filled with hidden pictures on every page! Little Ngiri is the Smallest Warthog in Africa. Tired of being teased by his bigger brothers and sisters, he wishes things could be different. When Old Nyumbu the Wildebeest gives Ngiri a set of magic drums, he is sure his wish is about to come true. But all the animals of the jungle are in for a BIG surprise as Ngiri's wish is granted in a most unexpected way. In the end, the gentle message that inner beauty and change is more important than outer beauty rings true. In true Graeme Base style, there is an added surprise at the end of the book. Everything seems to be normal in the jungle, but look closely and you will see that none of the animals or the other creatures watching from the trees are quite the way they were when the book began. Look even closer, and you will also find Old Nyumbu the Wildebeest hidden somewhere on every spread. Jungle Drums is a book to be read over and over again.
F&P level: N
F&P genre: F
About the author
Graeme Base, while working on Jungle Drums, journeyed with his family to Tanzania, Africa, where they camped in the Serengeti among giraffes, elephants, zebras, and of course warthogs. The trip helped Graeme bring the characters and landscape of the book to life. Graeme lives in Melbourne, Australia, with his artist wife, Robyn, and their three children.