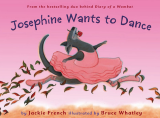 Imprint: Abrams Books for Young Readers
Publication Date: October 1, 2007
Price: $17.95
Trim Size: 11 1⁄8 x 8 1⁄4
ISBN: 978-0-8109-9431-7
EAN: 9780810994317
Page Count: 32
Format: Hardcover
The popular wombat's friend
From the award-winning duo behind the bestselling Diary of a Wombat (the famous wombat even makes an appearance at the ballet complete with a tutu!), Josephine Wants to Dance encourages all readers to never give up and to always dance to their own music.
Josephine loves to dance. She dreams of wearing a pink tutu and silk ballet shoes. But everyone reminds her that kangaroos don't dance—they hop! Kangaroos don't wear tutus, and they never wear ballet shoes! So Josephine sneaks into town, where the ballet rehearses, and watches for hours as the dancers spin and swirl and pirouette and curtsy.
But on the day of the ballet performance, the prima ballerina twists her ankle and a new dancer is needed for the lead role, a dancer who can jump higher than all the rest. Will Josephine be able to make her dream of becoming a ballerina come true?
F&P level: L
About the author
Jackie French is the author of Diary of a Wombat, also illustrated by Bruce Whatley, and Hitler's Daughter, winner of the CBC Young Readers Award.

Bruce Whatley is the illustrator of many bestselling picture books, including Noises at Night, Ruthie Bon Bair: Do Not Go to Bed with Wringing Wet Hair, and The Night Before Christmas. He lives in New South Wales, Australia.