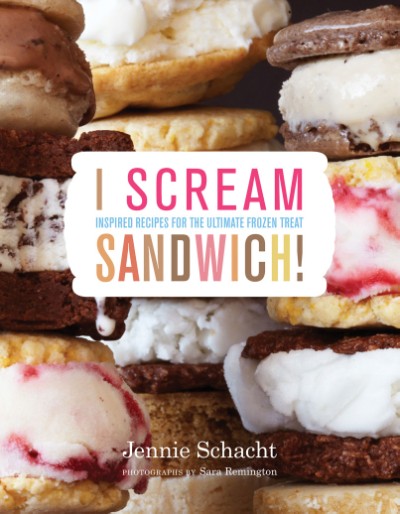 I Scream Sandwich
Inspired Recipes for the Ultimate Frozen Treat
Imprint: Stewart, Tabori & Chang
Publication Date: May 7, 2013
Price: $21.95
Trim Size: 7 x 9
ISBN: 978-1-61769-036-5
EAN: 9781617690365
Page Count: 176
Illustrations: 45 color illustrations
Format: Hardcover
Rights: World/All
In I Scream Sandwich!, cookbook author Jennie Schacht redefines this hugely popular sweet treat and shows us how it can easily be the star of a dinner party, child's birthday bash, family picnic, or just a lazy summer afternoon. The book includes a variety of ice cream sandwich recipes, from the classic (chocolate cookie bars with vanilla ice cream), to the exotic (kaffir lime and lemongrass sorbet on five-spice cookies), to the seasonal (blackberry-buttermilk ice cream on crispy meringues), to the upscale (pistachio gelato on a brioche bun). In addition to cookies and ice cream, sandwiches are made with brownies, bars, cakes, brioche, crusts, gelatos, sorbets, and dairy-free options. This idea-filled book also includes recipes for sauces, roll-ins, and decorations.
Praise for i scream SANDWICH!:
 "You'll scream for i scream SANDWICH!—a yummy guide to filling every kind of cookie imaginable with scrumptious ice creams and other frozen delights. Jennie's recipes will guarantee a freezer full of chilly treats all year round!"
DAVID LEBOVITZ, author of The Perfect Scoop
 
"Wildly tempting, super-fun, totally doable ice cream desserts to feed the inner child, outer child, or favorite foodie. Jennie's recipes are well written, easy to follow, and loaded with tricks, tips, and extras. Now I can't decide between a PB&J ice cream sandwich on warm toast (!) or Pistachio-Cardamom Cookies stuffed with Rosewater Ice Cream…oh, delicious dilemma!"
ALICE MEDRICH, author of Sinfully Easy Delicious Desserts and Chewy Gooey Crispy Crunchy Melt-In-Your-Mouth Cookies
 
"Jennie has created a book full of both classic [and] innovative ice cream sandwiches. She makes sure to include wonderful flavor combinations, lots of great information, and never forgets to have fun in the process. We love her recipe for soft chocolate cookies with vanilla ice cream, a great take on the ice cream sandwich of our youth."
ANNE WALKER and KRIS HOOGERHYDE, owners of Bi-Rite Creamery in San Francisco and authors of Sweet Cream and Sugar Cones
 
"Nothing tops the delightful marriage of cookies and frozen cream, and nothing tops Jennie's irresistible i scream SANDWICH!"
JENI BRITTON BAUER, author, Jeni's Splendid Ice Creams at Home

About the author
Jennie Schacht is a culinary writer and consultant. Her articles have appeared in national and international publications, and she is the author of Farmers' Market Desserts, as well as the coauthor of The Wine Lover's Dessert Cookbook, Without Reservations, Sweet and Skinny, and The Starch Solution. She lives in Oakland, California.