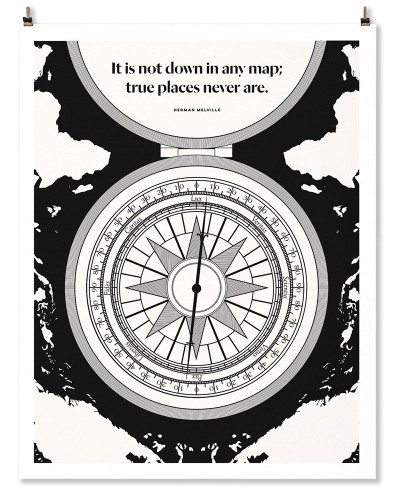 Herman Melville "Compass" Print
Imprint: Obvious State
Publication Date: July 3, 2018
Price: $24.95
Trim Size: 11 x 14
ISBN: 063-4392437-28-3
EAN: 0634392437283
Format: Print
"It is not down in any map; true places never are." - Herman Melville
Nothing reacquaints us with ourselves quite like travel. Here, we have a map that transforms into a Rorschach test, and a compass that points to things truer than North.
11x14 inch art print with white border
Heavy, premium 270 gsm archival paper
About the author
Obvious State is a creative studio in pursuit of wisdom and beauty. They are inspired by provocative language that has stood the test of time, poetry that captures the beauty of the human experience, and philosophy that drives us to examine and re-examine. They aim to create art and thoughtfully designed gifts that prompt conversations and bring aesthetic joy to everyday objects. All Obvious State goods are meticulously crafted in the United States and printed on the finest papers and materials. After all, beautiful language deserves beautiful treatment.