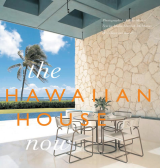 Imprint: Abrams Books
Publication Date: November 1, 2007
Price: $45.00
Trim Size: 9 1⁄2 x 10
ISBN: 978-0-8109-9394-5
EAN: 9780810993945
Page Count: 192
Format: Hardcover
From dramatic oceanfront homes to old cottages full of memories, Hawaiian houses combine architecture and location to create a sense of relaxation. As people from all over the world (Polynesians, New England missionaries, East and Southeast Asians) have put down roots in the islands, they have combined international motifs with a more traditional Hawaiian ambiance—to produce an informally eclectic style that is perfectly suited to contemporary lifestyles.
The Hawaiian House Now takes the reader on a tour of 21 specially photographed homes throughout the islands of Oahu, Hawaii (the Big Island), Maui, and Kauai, including houses that update the "aloha spirit" of traditional Hawaii; town houses in Honolulu; country houses; fantasy houses that express a personal vision; houses that blend the indoors and outdoors; original architectural statements; and, of course, beach houses.
About the author
Linny Morris, a native of Honolulu, is both an artist and photographer whose work has been widely published. This is her sixth book about interiors and architecture.

Malia Mattoch-McManus is the host of the Honolulu-based television program, Entertaining in Paradise. A graduate of Georgetown University and City University in London, she is a native of Honolulu.