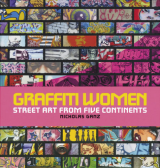 Graffiti Women
Street Art from Five Continents
Imprint: Abrams Books
Publication Date: November 1, 2006
Price: $35.00
Trim Size: 8 5⁄8 x 9 1⁄4
ISBN: 978-0-8109-5747-3
EAN: 9780810957473
Page Count: 232
Illustrations: 1,000 full-color illustrations, 232 pages, 8 5/8x9 1⁄4"
Format: Hardcover
From the author of the enormously successful Graffiti World comes this spectacular follow-up, celebrating the contributions of women to contemporary graffiti and street art.
Female writers have always been in the vanguard of the graffiti movement, though often shunted to the sidelines by their male counterparts. This exhaustive volume places them front and center, featuring 1,000 full-color illustrations from some of the world's most prominent artists, including Brazil's Nina, Japan's Sasu, Mexico's Peste, and the Americans Lady Pink, Swoon, and Miss 17. Two eight-page fold-out collages, a fold-out poster jacket, and an authoritative text round out the impressive package. The first and only comprehensive survey of its kind, this book is sure to attract and expand upon the wide and enthusiastic readership that made Graffiti World such a runaway success.
About the author
Nicholas Ganz, aka Keinom, is a young German graffiti artist who has traveled worldwide to become the leading authority on the graffiti scene. He lives in Essen, Germany.

Nancy Macdonald is the author of The Graffiti Subculture: Youth, Masculinity and Identity in London and New York. She lives in London.

Swoon is a New York City-based street artist.