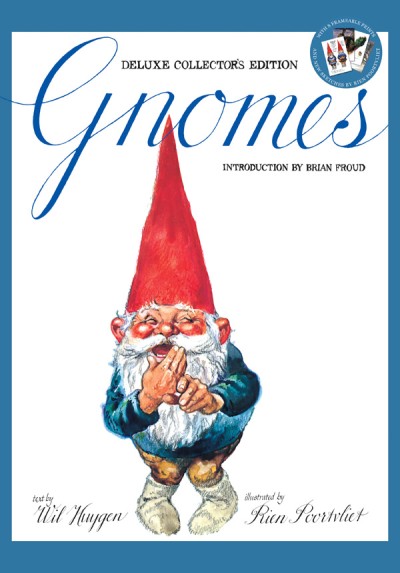 Gnomes Deluxe Collector's Edition
Imprint: Abrams Books
Publication Date: April 1, 2011
Price: $35.00
Trim Size: 8 1⁄4 x 11 7⁄8
ISBN: 978-0-8109-9846-9
EAN: 9780810998469
Page Count: 224
Illustrations: 200 color illustrations
Format: Hardcover
Rights: World English
The delightful classic Gnomes has been repackaged in this exceptional collector's edition to celebrate the 35th anniversary of this magical book. The beloved Gnomes was first published in 1976 and the world became enchanted with the simple and diligent ways of these special creatures. Based on Rien Poortvliet and Wil Huygen's scientific observation of the local gnome population in Holland, Gnomes covers all areas of gnome culture: architecture, education, courtship, medicine, industry, and relationships with other mythical creatures. Thirty-five years later, this beautifully illustrated book continues to bring joy to readers of all ages. This revised collector's edition of Gnomes features a new introduction, eight removable prints in a back cover envelope, and an all-new signature of never-before-published gnome sketches by artist Rien Poortvliet on distinctive sketchbook paper.
Praise for Gnomes Deluxe Collector's Edition:
"[The original book] sold more than a million copies and spent 56 weeks on the hardcover list before the little creatures crawled back under our collective Pet Rock. Now, an anniversary edition, published on April 1, aims to enlighten a new generation with its accounts of gnome biology (they weigh 300 grams and live an average of 400 years), gnome customs (they greet each other by rubbing noses and maintain friendly relations with rabbits), and gnome sex (which always results in twins, who live at home until age 100)."
-New York Times
"Gnomes is considered the definitive work on gnome culture. With a scholarly tone, it covers gnome architecture, education, medicine, courtship, and family and work life."
-The Philadelphia Inquirer
About the author
Rien Poortvliet (1932–1995) was a popular Dutch artist. He illustrated more than twenty books before his death in 1995. The Rien Poortvliet Museum in Middelharnis, Holland, is dedicated to his works. Wil Huygen (1923–2009) was born in Amersfoort, Holland. He was a physician and children's author.