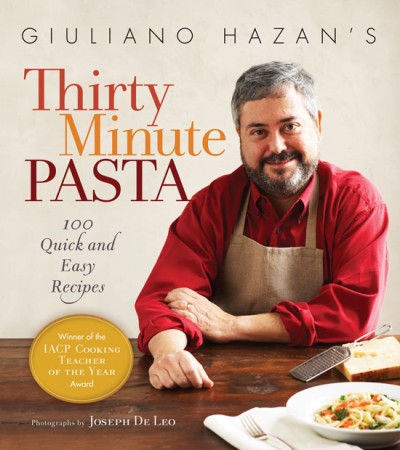 Giuliano Hazan's Thirty Minute Pasta
100 Quick and Easy Recipes
Ebook
Price: $27.50
Available from:
Publication Date: October 23, 2012
Imprint: Stewart, Tabori & Chang
ISBN: 9781613124086
Page Count: 176
Illustrations: 40 color photographs
Rights: World/All
Now that America's low-carb obsession is over, home cooks are once again looking to prepare well-balanced meals that include everyone's favorite food—pasta. Few of us, though, have the leisure to create a classic Bolognese meat sauce from scratch. For those who are as pressed for time as they are starved for a toothsome bowl of beautifully sauced pasta, Giuliano Hazan has created 100 scrumptious pasta dishes that can be put together in half an hour or less.
Hazan's repertoire—hearty pasta soups, fresh-from-the-greenmarket vegetarian dishes, and meat and seafood sauces that take their cue from the classics of Italian cuisine—will let you bring healthful, hunger-satisfying pasta back to your family's weeknight-supper table. Included are recipes for last-minute dishes, as well as useful advice on stocking your pasta pantry, choosing cooking equipment, and figuring out which pasta shape goes with which kind of sauce.
PRAISE FOR GIULIANO HAZAN'S THIRTY MINUTE PASTA
"Grazie, Giuliano, you've made busy weeknight dinners pasta perfect." —Book Page

"Highly recommended for time-pressed home cooks." —Library Journal
"The Italian food expert has created a cookbook combining various types of pasta in ways that even people with little free time can enjoy." —San Francisco Chronicle
"Hazan's latest title just keeps on satisfying, with so little effort on my part." —Austin Chronicle

" Using few ingredients, simple directions, quick results and wonderful Italian taste. —Daily News of Los Angeles

About the author
Giuliano Hazan is the son of famed Italian cookbook writer Marcella Hazan. He runs a cooking school in Verona with his wife and won the IACP award for Cooking Teacher of the Year in 2007. He is a contributor to Cooking Light magazine and author of The Classic Pasta Cookbook, Every Night Italian, and How to Cook Italian.