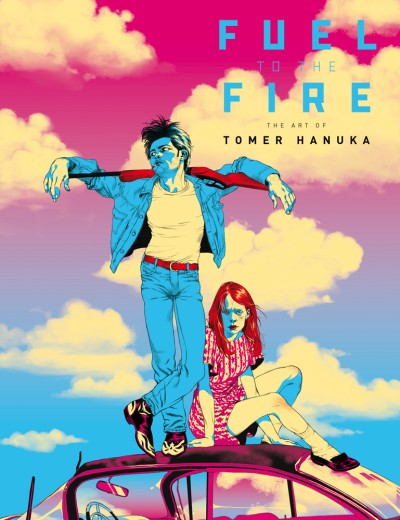 Fuel to the Fire
The Art of Tomer Hanuka
Imprint: Cernunnos
Publication Date: September 15, 2050
Price: $49.95
Trim Size: 8 5⁄8 x 11 3⁄8
ISBN: 978-2-37495-094-5
EAN: 9782374950945
Page Count: 304
Illustrations: 300 color illustrations
Format: Hardcover
Rights: North America
Discover the magical realism that makes Tomer Hanuka so popular in this exceptional art book celebrating the award-winning illustrator's comic-inspired art. Fuel to the Fire is a massive 300-page monograph filled with illustrations and comic book art that has graced the pages of The New York Times, The New Yorker, Rolling Stone, Criterion, and more. This long-awaited monograph showcases Hanuka's most iconic and exclusive masterpieces, including all of his famous covers for The New Yorker and his award-winning recreations of movie posters (The Graduate, Star Wars, Akira, and every Kubrick film).
NOTE:
Hanuka's most important clients are: Time Magazine, The New Yorker, The New York Times, Rolling Stone, GQ, Esquire, Men's Health, Playboy, Entertainment Weekly, Flaunt, Business Week, Newsweek, Mondo, Criterion-
Other publications he's written for or been featured in:
- Vice https://creators.vice.com/en_us/article/vvavp8/tomer-hanukas-world-of-anime-heroes-and-everyday-moments
- Entertainment Weekly http://ew.com/article/2015/07/06/divine/
- iO9 https://io9.gizmodo.com/an-unbelievably-beautiful-sneak-peek-at-your-next-comic-1713408235
- Mother Jones https://www.motherjones.com/media/2015/07/divine-graphic-novel-tomer-hanuka-asaf-burma-gods-army-htoo-twins/
- Mental Floss http://mentalfloss.com/article/66189/most-interesting-comics-week
- Publishers Weekly https://www.publishersweekly.com/978-1-59643-674-9
- Paste https://www.pastemagazine.com/articles/2015/07/the-divine-is-a-story.html
- The AV Club https://aux.avclub.com/two-new-secret-wars-tie-ins-justify-destroying-the-marv-1798281444
- NY Times book review https://www.nytimes.com/2015/10/18/books/review/graphic-novels.html
- Le Monde, France http://www.lemonde.fr/livres/article/2015/01/16/bd-le-divin-freres-d-armes_4556886_3260.html
- Computer Arts Projects Magazine
- IdN magazine
- Juxtapoz Magazine
- Print Magazine
-My Modern Met https://mymodernmet.com/magnificent-storytelling/

About the author
New York Times bestselling artist Tomer Hanuka is an award-winning illustrator. He has worked on the Oscar-nominated animated documentary film, Waltz with Bashir, and illustrated covers for The New Yorker. Hanuka has won multiple industry awards, including gold medals from The Society of Illustrators and The Society of Publication Designers. The Divine, a graphic novel he co-created and published in 2015, made The New York Times bestseller list, was nominated for a Hugo, and won the International Manga Award. It is currently being developed for a TV series. Publishers Weekly described The Divine as ""Heady, hellacious, and phantasmagoric."