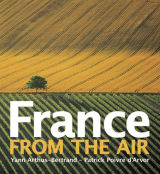 Imprint: Abrams Books
Publication Date: August 1, 2006
Price: $55.00
Trim Size: 11 1⁄4 x 12 1⁄4
ISBN: 978-0-8109-5952-1
EAN: 9780810959521
Page Count: 340
Illustrations: 230 full-color photographs, 340 pages, 11 1/4x12 1⁄4"
Format: Hardcover
Though it's only about the size of Texas, France presents an astonishing variety of landscapes to the aerial observer—each of which reveals itself in the pages of this breathtaking photographic journey. In 200 full-color photographs, Yann Arthus-Bertrand captures all the undulating curves and harmonious lines of this vibrant, verdant, sometimes rough but always generous land. Here is a France of green fields and red brick roofs, dotted with steeples and church towers, worn by the sea along its handsome coasts and rife with rolling hills. Here are the great French landmarks—the Pont du Gard, Notre Dame, Loire Valley castles, and Bordeaux vineyards, to name just a few, with accompanying text by journalist Patrick Poivre d'Arvor that makes each one come alive as if seen for the first time.
About the author
Yann Arthus-Bertrand is a widely renowned specialist in aerial photography who has published 60 books, including Abrams' best-selling Earth from Above series. His photographs have been featured in National Geographic, Life, GEO, and Paris-Match, among other magazines. Arthus-Bertrand lives in Paris.

Patrick Poivre d'Arvor is the anchor of the most widely watched television news program in France. He has also written numerous novels and has produced and anchored several television programs covering literary and political subjects. Poivre d'Arvor lives in Paris.