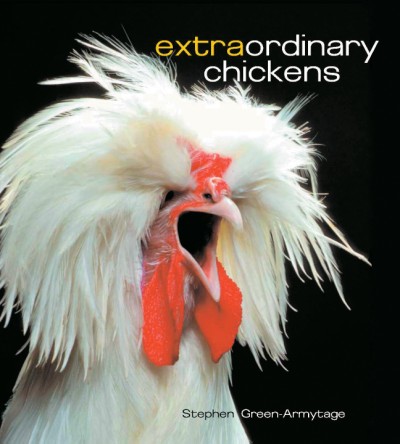 Imprint: Abrams Books
Publication Date: October 1, 2000
Price: $25.95
Trim Size: 9 x 10
ISBN: 978-0-8109-3343-9
EAN: 9780810933439
Page Count: 112
Format: Hardcover
Stephen Green-Armytage, author/photographer of Abrams' enchanting Dudley: The Little Terrier That Could, has now produced a unique adult book, introducing the bizarre and beautiful world of exotic ornamental chickens. His startling pictures present an international selection of breeds ranging from the Bearded Silkie and the crested Polish to the majestic Phoenix, whose tail feathers can exceed 10 feet in length.
Chickens of all sizes, shapes, and colors parade through these pages, as Green-Armytage captures the surprising and expressive personality of these amazing birds. For breeders, this will be a volume they must own; for everyone else, it will be a revelation, prized for the sheer enjoyment of the striking photographs and the extraordinary animals they portray.
Also Available: Extraordinary Chickens 2018 Wall Calendar (ISBN: 978-1-4197-2457-2), Extraordinary Chickens 2019 Wall Calendar (ISBN: 978-1-4197-2999-7)
About the author
Stephen Green-Armytage's photographs have appeared in many books and magazines. Author and photographer of the Abrams book Dudley: The Little Terrier That Could, he lives in New York City.