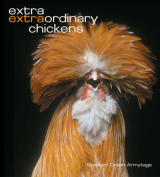 Extra Extraordinary Chickens
Imprint: Abrams Books
Publication Date: November 1, 2005
Price: $25.95
Trim Size: 9 x 10
ISBN: 978-0-8109-5924-8
EAN: 9780810959248
Page Count: 112
Illustrations: 212 full-color photographs, 112 pages, 9 x 10, 112 pages, 9x10"
Format: Hardcover
The striking images in Extraordinary Chickens showed that "the world of chickens is a world of wonders" (New York Times Book Review). Now, in a follow-up to the extraordinarily successful first book from Stephen Green-Armytage, the photographer presents 61 breeds and 5 species, including 14 breeds not previously included in the first book, a new series of chicken couples, and virtually all new images. Capturing with his camera chickens of all sizes, shapes, and colors, he illuminates gorgeous feather patterns worthy of French fabric designers, as well as elaborate wattles, elegant crests, and many other details. Through his exquisite photographs, he captures the surprising and expressive personality of these amazing creatures. Included are breeds developed in Japan, Malaysia, Britain, France, Italy, Belgium, Germany, Holland, Poland, Australia, South America, Canada, the United States, and elsewhere. For breeders and enthusiasts, this volume will be a treasure they must own; for others it will be a revelation, worth having for the sheer enjoyment of the beautiful photographs and the wonderful birds they portray.
Also Available: Extraordinary Chickens 2018 Wall Calendar (ISBN: 978-1-4197-2457-2), Extraordinary Chickens 2019 Wall Calendar (ISBN: 978-1-4197-2999-7)
About the author
Stephen Green-Armytage's photographs have appeared in numerous books and magazines, including Sports Illustrated, LIFE, Fortune, Smithsonian, and various European magazines. He is the author/photographer of Abrams' first volume on Extraordinary Chickens, as well as subsequent takes on Extraordinary Pheasants and Extraordinary Pigeons, plus the delightful children's book Dudley: The Little Terrier That Could. He lives in New York.