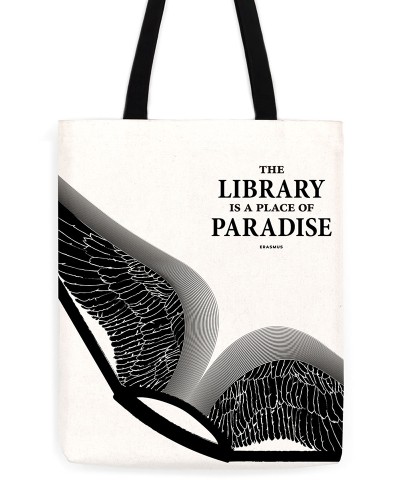 Imprint: Obvious State
Publication Date: July 3, 2018
Price: $19.95
Trim Size: 13 x 15
ISBN: 063-4392437-78-8
EAN: 0634392437788
Format: Tote
"The library is a place of paradise." - Erasmus
Wise words from the Prince of Humanists. Erasmus was a quiet revolutionary in single pursuit of wisdom, and he clearly understood where books should fall in the pecking order of priorities.
This structured, sturdy tote fits the essentials and includes a roomy interior pocket so you don't have dig for your cellphone and keys.
13" x 15" with 24" handles
Handmade and printed in Brooklyn, NY
Premium, heavy 100% natural cotton canvas
Hand-pulled print, colors may vary slightly
Extra long black handles, 1" gusset
About the author
Obvious State is a creative studio in pursuit of wisdom and beauty. They are inspired by provocative language that has stood the test of time, poetry that captures the beauty of the human experience, and philosophy that drives us to examine and re-examine. They aim to create art and thoughtfully designed gifts that prompt conversations and bring aesthetic joy to everyday objects. All Obvious State goods are meticulously crafted in the United States and printed on the finest papers and materials. After all, beautiful language deserves beautiful treatment.