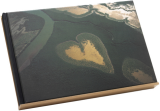 Earth from Above: Limited Edition
Imprint: Abrams Books
Publication Date: January 1, 2008
Price: $2000.00
Trim Size: 27 x 18
ISBN: 978-0-8109-9385-3
EAN: 9780810993853
Page Count: 216
Format: Hardcover
With the continued success and popularity of the Earth From Above project, Yann Arthus-Bertrand has created a collector's edition of his work in a spectacular format. Each spread of this oversized edition measures just over five feet when open. Bound in real printed cloth and sold with a wooden stand, Earth From Above, Limited Edition presents one hundred of the photographer's best-loved images, including previously unpublished work.
Since he started the project in 1990, Arthus-Bertrand has worked to bring to light not only the beauty of our planet, but also its fragility and our responsibility to preserve it. His powerful aerial photography and insightful commentary is a testament to humanity's duty to our home, the Earth.
About the author
Yann Arthus-Bertrand's many books include the multimillion-copy international bestseller Earth From Above. Born in Paris in 1947, he continuously travels over the world and his photography appears in magazines like National Geographic, Life, GEO, and Sierra Magazine. He is the chairman of GoodPlanet.org, a nonprofit association for the promotion of sustainable development.