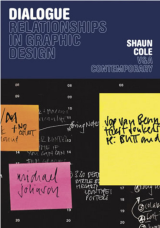 Dialogue
Relationships in Graphic Design
Imprint: V & A Publishing
Publication Date: November 1, 2005
Price: $24.95
Trim Size: 5 5⁄8 x 8 1⁄4
ISBN: 978-1-85177-434-0
EAN: 9781851774340
Page Count: 128
Illustrations: 100 full-color illustrations, 128 pages, 5 5⁄8 x 8 1⁄4, 128 pages, 5.625x8.25"
Format: Paperback
Rights: North America
This innovative series highlights the crucial role of design in today's culture. Who are the creators of the things that surround us? What drives the thinking behind the development of new products? Through interviews with designers and commentaries on selected products, these clever books show the myriad of inspirations and influences—culture, technology, clients, and consumers—that shape each new concept. The books are designed by the acclaimed London firm Graphic Thought Facility.
Graphic design is one of the most vibrant areas of design today. Driven by new technologies, client demands, and channels for expression, it has undergone radical transformation in the last few years. This innovative book explores the relationship between designers, their clients, and consumers, following graphic design projects from initial pitch to finished product.
From large studios to independent designers, Dialogue examines the diverse creative solutions and imaginative uses for graphic design. With a broad range of images, from mainstream to the esoteric, and from many countries around the world, this unique volume sheds light on the varied working methods of today's professionals.
About the author
Shaun Cole is Curator of Contemporary Programmes at the V&A, specializing in fashion and graphic design. He has organized a number of exhibitions, including Dressing the Male and Black British Style.