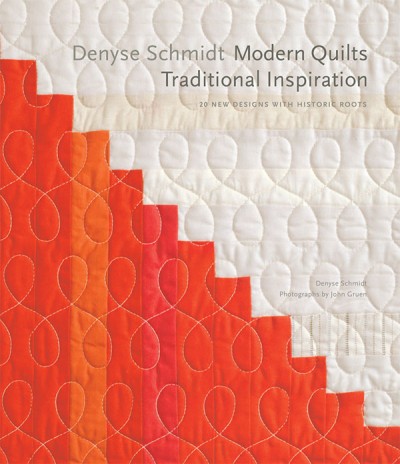 Denyse Schmidt: Modern Quilts, Traditional Inspiration
20 New Designs with Historic Roots
Imprint: STC Craft
Publication Date: April 1, 2012
Price: $29.95
Trim Size: 8 1⁄2 x 9 7⁄8
ISBN: 978-1-58479-900-9
EAN: 9781584799009
Page Count: 160
Illustrations: 100 full-color photographs
Format: Hardcover
Rights: World/All
Denyse Schmidt is one of the leading quilters of the 21st century. Known as a "modern" quilter, she actually draws much of her creative vision from quilts of the past. In Denyse Schmidt: Modern Quilts, Traditional Inspiration, Schmidt pays homage to the quilters and quilts that came before her. Each of the 20 traditional quilt designs she has reinterpreted here (among them are Irish Chain, Mariner's Compass, and Orange Peel, to name a few) is introduced with a lively overview of the pattern's history. Instructions are illustrated, templates are provided at full size on a pullout pattern sheet, and a complete techniques section is included at the back of the book.
Praise for Denyse Schmidt: Modern Quilts, Traditional Inspiration:
"Denyse Schmidt's contemporary art quilts are things of enduring style and beauty, but few fans realize her 16-year career as a textile artist began when Schmidt fell in love with tried-and-true, centuries-old traditional quilt patterns . . . Modern Quilts, Traditional Inspiration is the artist's return to this fertile terrain, featuring her colorful and updated take on 20 time-tested designs. Full-page photos of gorgeous quilts full of those bold geometric shapes that first inspired her provide ample motivation, while detailed instructions, a pull-out book of templates, and a section detailing tools and techniques offer plenty of how-to support, even for novice makers." —American Craft Magazine
"The book contains 20 traditional quilt styles that look exceptionally modern, hip, and fresh, with limited color palettes and minimal use of prints. To me, it is the best of both worlds—tried-and-true patterns with stories to tell, interpreted by this talented woman who helped define modern quilting. The modern/traditional debate is moot here, which is refreshing and wonderful." —Sew Mama Sew!

"It's been 7 years since Denyse Schmidt's first book, and believe me, this new volume was well worth the wait...Whether you consider yourself a traditional or modern quilter, there is plenty of inspiration here, in projects that play with the tantalizing pairing of vintage patterns and contemporary colors. Although Denyse explains the origins and alternate names of many of the patterns, she rarely offers them straight: she riffs off old patterns like Mariner's Compass and Wagon Wheel and strips them down to stark basics." --Meg Cox, Journalist, Author, and President of the Alliance for American Quilts
"Denyse Schmidt never ceases to inspire us . . . We are very excited to announce her latest book, the simply breathtaking Modern Quilts, Traditional Inspiration. Delving back to the traditional styles that first sparked her passion for quilting, Denyse gives these twenty quilt patterns a modern spin with bold, beautiful fabric choices." —The Purl Bee
"In this book, [Denyse] shows off a new gamut of wonderful quilts . . . She writes in such a quiet and contemplative way, reminding me that quilting at its best isn't meant to be done in a hurry to crank something out." —Spoonflower.com
About the author
Denyse Schmidt's work has been featured in hundreds of publications, including the New York Times, TIME, People, and Martha Stewart Living. Her fabric and stationery lines are sold worldwide. She is the author of Denyse Schmidt Quilts and 30 Colorful Quilt and Patchwork Projects. Visit her website at dsquilts.com.