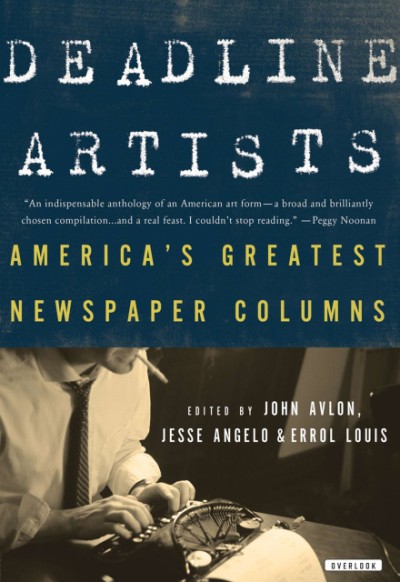 Deadline Artists
America's Greatest Newspaper Columns
Imprint: Abrams Press
Publication Date: September 21, 2011
Price: $29.95
Trim Size: 6.32 x 9.29
ISBN: 978-1-59020-429-0
EAN: 9781590204290
Page Count: 432
Format: Hardcover
Additional formats:
Newspapers in America have always been the crucible where our passions and debates are tried by the only judge this nation respects: public opinion. At a time of great transition in the news media, Deadline Artists celebrates the relevance of the newspaper column through the simple power of excellent writing. It is an inspiration for a new generation of writers--whether their medium is print or digital-looking to learn from the best of their predecessors. Contributors include: Jimmy Breslin, Mike Royko, Murray Kempton, Ernie Pyle, Peggy Noonan, Thomas L. Friedman, David Brooks, Mitch Albom, Dorothy Thompson, Ernest Hemingway, Benjamin Franklin, Fanny Fern, Richard Harding Davis, Grantland Rice, Will Rogers, Orson Welles, Langston Hughes, Woody Guthrie, Ambrose Bierce, Mark Twain, Theodore Roosevelt, H.L. Mencken, Ben Hecht, Westbrook Pegler, Heywood Broun, Damon Runyon, W. C. Heinz, Jimmy Cannon, Red Smith, Russell Baker, Art Buchwald, William F. Buckley, Hunter S. Thompson, Pete Dexter, Carl Hiaasen, Dave Barry, Leonard Pitts, Anna Quindlen, Thomas Boswell, Tony Kornheiser, Kathleen Parker, Maureen Dowd, Bob Herbert, Michael Kinsley, Cynthia Tucker, George Will, Jack Newfield, Mike Barnicle, Pete Hamill and Steve Lopez.