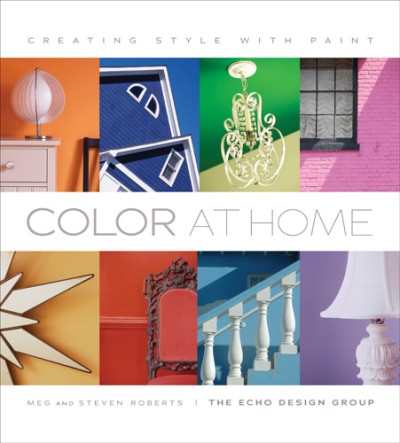 Color at Home
Creating Style with Paint
Imprint: Stewart, Tabori & Chang
Publication Date: February 1, 2008
Price: $29.95
Trim Size: 9 x 10
ISBN: 978-1-58479-663-3
EAN: 9781584796633
Page Count: 208
Illustrations: 175 Color Photos
Format: Hardcover
Selecting a paint color, whether for a home's exterior or the bedroom walls, can feel like a perilous venture. For good reason. Like no other aspect of our environment, color has the power to profoundly affect our feeling of well-being. And taste in color is an extremely personal matter: to choose a color—a saturated red, an understated ochre, a sizzling-hot pink—is to say something revealing about oneself. It's no wonder that committing to a color demands an act of bravery.
With Color at Home, the Echo Design Group's Meg and Steven Roberts aim to inspire and encourage you to jump into the exhilarating world of color. Illustrated with more than 150 images of color-infused homes across the country, the book will bolster your courage as you develop a color vision for your own home.
Color at Home insightfully explores the emotional territory mapped by each hue—aqua's refreshing oasis; orange's warm radiance; the stark, urbane chic of black and white—while providing essential practical advice on topics such as coordinating colors with a home's architectural style or historical period. The innovative color grids included in the book help you define your preferred palette.
About the authors
Meg Roberts is the Design Director of Home for the Echo Design Group. She received her BFA in textiles from the Rhode Island School of Design.

Steven Roberts is president and chief executive officer of Echo Design Group. After completing undergraduate work at Trinity College, he received his MBA from New York University. Meg and Steven live in a suburb of New York City with their three children.

Brenda Cullerton is a writer specializing in fashion and style. In addition to writing the text for the previous two Echo books, she is the author of Abrams' Geoffrey Beane. She lives in New York City.

Eric Laignel is a photographer whose work has appeared in magazines and books all over the world. He splits his time between New York and Paris.