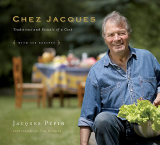 Chez Jacques
Traditions and Rituals of a Cook
Imprint: Stewart, Tabori & Chang
Publication Date: April 1, 2007
Price: $150.00
Trim Size: 11 x 10
ISBN: 978-1-58479-601-5
EAN: 9781584796015
Page Count: 272
Illustrations: 200 Color Photos
Format: Hardcover
Numbered limited edition with Clothbound slipcase
Of the 20-plus cookbooks Jacques Pépin has written, Chez Jacques is his most personal and engaging. Now starring in his tenth PBS series, Pépin ranks among America's most beloved cooking teachers, and this book shows us why.
The book's 100 recipes—for soups and appetizers, main courses, side dishes, and desserts—are Pépin's own favorites among the thousands he has created over a lifetime of cooking. Using readily available ingredients and relying upon familiar techniques, these are the dishes he makes when preparing food at his Connecticut home. But Chez Jacques is more than a collection of well-liked recipes; it's also a captivating sentimental journey. Each dish is introduced by a recollection—of picking dandelion greens for a spring salad, of buying fresh eggs from the local farmer—that invites readers to share in the traditions and rituals of Pépin's most intimate circle.
This treasury of great food, lore, and memory is exquisitely illustrated with a sampling of Pépin's paintings, as well as hundreds of color photographs of the finished dishes and of Pépin in all his "natural habitats"—pitching boules with a group of friends, savoring a glass of chilled rosé in the afternoon sun, painting landscapes, designing menus, and, of course, working in his kitchen.
About the author
JACQUES PÉPIN has been cooking professionally and teaching others how to cook for more than 50 years. Before moving to America in 1959, he was the personal chef to three French heads of state. In America, Pépin shared the spotlight with Julia Child on their series Julia and Jacques Cooking at Home. He has published more than 20 cookbooks, is currently a dean at the French Culinary Institute, and teaches culinary arts at Boston University. In 2004, he was awarded the French Legion of Honor. He lives in Madison, Connecticut, with his wife, Gloria.

Photographer Tom Hopkins has enjoyed a friendship with Jacques Pépin since they met working on The Art of Cooking together 20 years ago. In addition to food, Hopkins shoots fashion and travel for catalogs and advertising. He lives in Madison, Connecticut.