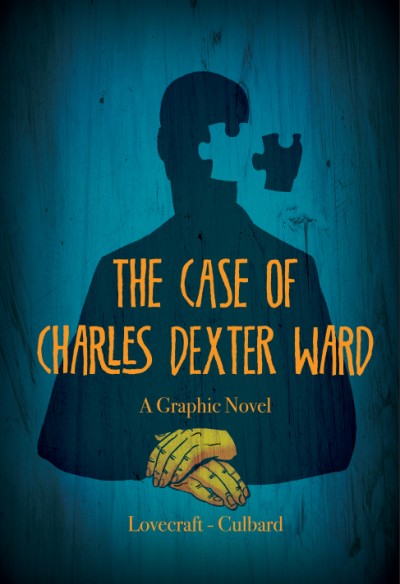 The Case of Charles Dexter Ward
Imprint: SelfMadeHero
Publication Date: April 9, 2013
Price: $19.95
Trim Size: 6 1⁄2 x 9 1⁄2
ISBN: 978-1-906838-35-5
EAN: 9781906838355
Page Count: 128
Format: Paperback
Rights: North America
With creepy, spooky art, and sinister, suspenseful text, I. N. J. Culbard brings new life—and death—to H. P. Lovecraft's psychological mystery of forbidden knowledge and pursuits. Young Charles Dexter Ward is fascinated by the history of Joseph Curwen, his wizard ancestor of the 17th century. Curwen was notorious for haunting graveyards, practicing alchemy, and never aging! Ward can't help his fixation: He himself looks just like Curwen. In an attempt to duplicate his ancestor's cabbalistic feats, he resurrects the fearsome Curwen . . . and then the true horror begins!
Praise for The Case of Charles Dexter Ward:
"Culbard triumphs in bringing to life a story that isn't inherently visual…. Another success by one of the best modern translators of the endlessly popular scribe." —Booklist
"This is really the best way to enjoy Lovecraft." —Boing Boing
"Culbard brings the classic tale to life, and his work will very likely entice readers who enjoy the macabre to seek out the original novel." —PublishersWeekly.com
"If you're looking for chills, you'll find them here." —Scripps Howard News Service
"Culbard illustrates this tale of life everlasting—replete with ancient lore and sinister networks crossing the boundaries of reason, morality and science—in appropriately dark and lurid colors." —The Milwaukee Shepherd Express
"It's been something of a renaissance for H.P. Lovecraft comics over the last couple of years thanks to SelfMadeHero." —Houston Press "Art Attack" blog
"We're giving it an ichor-dripping thumbs up." —The Austin Chronicle "Under the Covers" blog
 
"Rich details in his drawings cull out the story's shadows and the sadness that lurks behind the fearsome details. Culbard masterfully controls the pacing as well, creating suspense and shock through his elegant pages." —Graphic Novel Reporter
About the author
H. P. Lovecraft (1890–1937) was one of the most influential horror writers of the 20th century. I. N. J. Culbard's work has appeared in several anthologies, including Dark Horse Presents, Judge Dredd Magazine, and 2000 A.D. He has also adapted several classics for SelfMadeHero. He lives in Nottinghamshire, England.