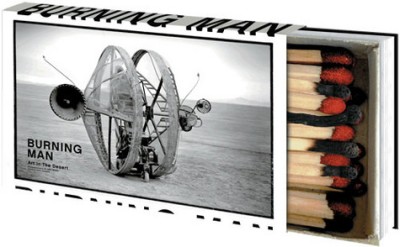 Burning Man
Art in the Desert
Imprint: Abrams Books
Publication Date: June 1, 2007
Price: $32.50
Trim Size: 11 1⁄2 x 8
ISBN: 978-0-8109-9290-0
EAN: 9780810992900
Page Count: 160
Illustrations: 125 BW Photos
Format: Hardcover
For one week in August the Burning Man Festival in Nevada's Black Rock Desert brings people together in a spirit of self-reliance and creativity. Art has become the defining feature of Burning Man, as the festival continues to be a testing ground for a growing circle of artists seeking engaged audiences. Their most compelling works are large-scale constructions that are burned at the end of the festival, and radically altered vehicles, or "art cars."
Art at Burning Man, like the experience of being there itself, is a way of being outside routine existence: People return home rejuvenated and inspired to seek ways to express the spirit of the festival in their everyday lives. For more than a decade, A. Leo Nash has been creating a photographic document of this work, and in his photographs we see the wellspring of a new art movement.
About the author
A. Leo Nash is a photographer whose work has been widely exhibited. He is a creative participant at Burning Man and collaborates with the artists whose work he documents. He lives in Oakland, California.

Daniel Pinchbeck is the author of Breaking Open the Head: A Psychedelic Journey into the Heart of Contemporary Shamanism and 2012: The Return of Quetzalcoatl. He lives in New York City.