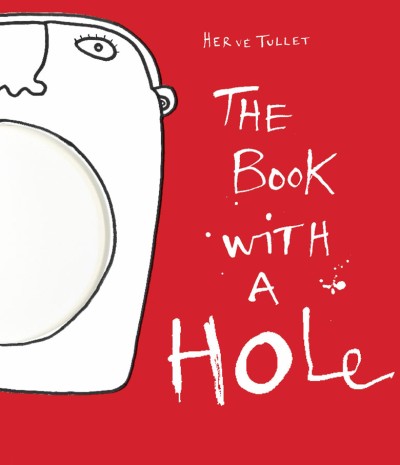 Imprint: Tate Publishing
Publication Date: April 1, 2011
Price: $14.50
Trim Size: 10 7⁄8 x 12 5⁄8
ISBN: 978-1-85437-946-7
EAN: 9781854379467
Page Count: 96
Illustrations: 96 pages of black-and-white illustrations
Format: Paperback
Rights: North America
The Book with a Hole blasts a hole through the middle of the book itself. Sometimes the hole is an eye the reader can look through; sometimes it is a mouth and the reader's fingers make the teeth! The next minute it is a plate (with food drawn by the reader on a sheet of paper behind the book), an obstacle to jump across, or a saucepan. It's crazy! It's a Book with a Hole!

Packed full of Hervé Tullet's zany drawings and inventive ideas, this is bound to enchant children of all ages.
Praise for The Book with a Hole
« "Deliciously interactive and profoundly immersive, this book provides rich imaginative play from cover to cover. Most apps have a long way to go before they will be as artful and engaging as this interactive wonder." –Kirkus Reviews, starred review
"Tullet's simple innovation allows readers to become active participants in the experience of reading." –Publishers Weekly
About the author
Hervé Tullet is one of the best-known children's authors and illustrators working today. He pursued a successful career in advertising before switching to creating children's books, and his illustrations regularly appear in publications including the New Yorker. His previous books include The Scribble Book and The Coloring Book.