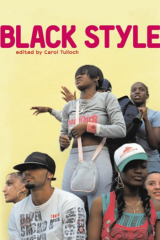 Imprint: V & A Publishing
Publication Date: September 8, 2004
Price: $40.00
Trim Size: 8 x 11 7⁄8
ISBN: 978-1-85177-424-1
EAN: 9781851774241
Page Count: 128
Format: Paperback
Rights: North America
The highly distinctive styles adopted by black men and women over the last 40 years may have had their origins in the African diaspora, but they have also been molded by politics, cultural exchange, and the desire of different social groups to forge their identity. This lively and colorful book looks at the huge variety to be seen in black clothing, hairstyles, and accessories, whether in West Africa or Jamaica or on the streets of the United States and Great Britain.
About the author
Carol Tulloch is senior research fellow in black visual culture at Chelsea College of Art, London.