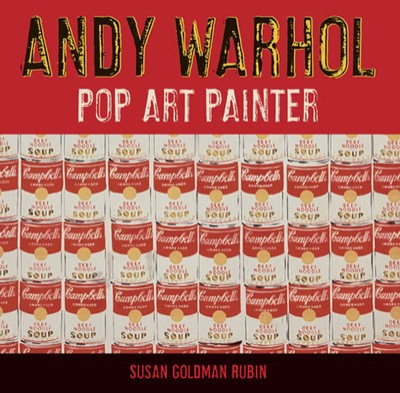 Andy Warhol
Pop Art Painter
Imprint: Abrams Books for Young Readers
Publication Date: November 1, 2006
Price: $21.95
Trim Size: 10 x 10
ISBN: 978-0-8109-5477-9
EAN: 9780810954779
Page Count: 48
Illustrations: 48 pages, full-color, 48 pages, 10x10"
Format: Hardcover
Soup cans! Dollar bills! Movie stars! Paint by numbers! Is it art? Yes! Andy Warhol's art.
Following award-winning artist biographies Degas and the Dance, Toulouse-Lautrec, and Cezanne, an exciting new book from Abrams Books for Young Readers looks at Andy Warhol. A leader of the American art movement known as Pop, short for "popular culture," Warhol changed the way we think of art. Assisted by photographs taken of Warhol throughout his life, and examples of his early drawings and best-known works, Susan Goldman Rubin traces his rise from poverty to wealth, and from obscurity to fame.
After attending art school in Pittsburgh, Warhol started a career as a commercial artist in New York, and quickly won acclaim for his creative advertisements. When he turned to "real" painting, he used his background in commercial illustration and blurred the line between high and low art.
Some critics have said that Warhol's pictures of Campbell's soup cans and Coca-Cola bottles represent American life. But Warhol said, "I just paint those objects in my paintings because those are the things I know best. I think of myself as an American artist." Warhol's unique images will appeal to young readers, and inspire them to see the world around them in new ways.
F&P level: R
About the author
Susan Goldman Rubin has written acclaimed books for young readers, including L'Chaim, A Sydney Taylor honor-award book and a New York Public Library Best Books for the Teen Age, Searching for Anne Frank; Margaret Bourke-White, an ALA Best Book for Young Adults; and Steven Spielberg, named one of the New York Public Library's Best Books for the Teen Age. She lives with her husband in Malibu, California.