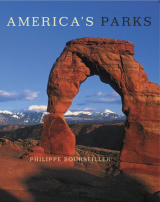 Imprint: Abrams Books
Publication Date: November 1, 2006
Price: $60.00
Trim Size: 11 1⁄4 x 14 3⁄8
ISBN: 978-0-8109-3084-1
EAN: 9780810930841
Page Count: 400
Illustrations: 200 full-color photographs, 384 pages, 11 1/4x14 3⁄8"
Format: Hardcover
Moving from the cascading waters of Niagara Falls to the massive volcanoes of Hawaii, renowned nature photographer Philippe Bourseiller takes readers on a captivating visual journey through 67 of the most magnificent natural sites in North America. The product of an entire year spent coursing the length and breadth of the United States, America's Parks captures the amazing diversity and ecological richness of some of our most important natural wildlife areas.
Bourseiller's free-ranging camera captures more than 200 breathtaking aerial and terrestrial images of wild America, from Mount St. Helens to the ice fields of Alaska, while essays from three prominent environmental journalists place the sites in historical, scientific, and sociological context. The result is a sumptuous panorama of unrivalled beauty that argues eloquently for environmental protection.
About the author
Philippe Bourseiller, five-time winner of the prestigious World Press Prize, travels the world photographing wild and unexplored places, and is based in Paris. This is his fourth book with Abrams.

Jean-François Chaix is a freelance journalist, translator, and travel writer based in Paris. He collaborated previously with Bourseiller on Call of the Desert: The Sahara.

Gary Ferguson is the author of 14 books on nature and science. He lives in Montana.

Roger Cans is an environmental writer who contributes to the French newspaper Le Monde and lives in Paris.