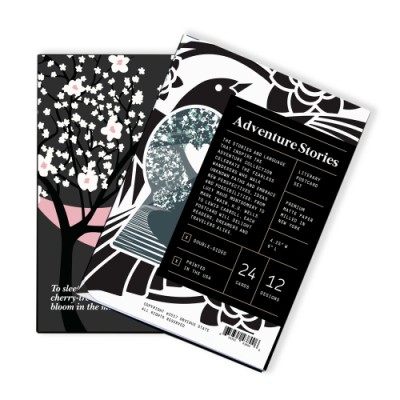 Adventure Stories Postcard Set
Imprint: Obvious State
Publication Date: July 3, 2018
Price: $14.95
Trim Size: 4.25 x 6
ISBN: 063-4392438-00-6
EAN: 0634392438006
Format: Boxed Set
The stories and language that inspire the Adventure collection celebrate the fearless wanderers who walk unknown paths and embrace new perspectives, ideas and possibilities.
From Lucy Maud Montgomery to Mark Twain, H. G. Wells to Lewis Carroll, each postcard will delight readers, dreamers and travelers alike.
24 Postcards, 12 Designs
Size: 4 1/4 x 6 inches
Paper: Heavy, premium 270 gsm archival paper
Finish: Matte, slightly textured
Container: Tab-lock, resealable
About the author
Obvious State is a creative studio in pursuit of wisdom and beauty. They are inspired by provocative language that has stood the test of time, poetry that captures the beauty of the human experience, and philosophy that drives us to examine and re-examine. They aim to create art and thoughtfully designed gifts that prompt conversations and bring aesthetic joy to everyday objects. All Obvious State goods are meticulously crafted in the United States and printed on the finest papers and materials. After all, beautiful language deserves beautiful treatment.